TOP GOOGLE PLACEMENT GROWS YOUR PRACTICE
CRITICAL FOR HEALTHCARE & MEDICAL PRACTICES
BE SEEN BY THE RIGHT PATIENTS
VISIBILITY. Being found on page 1 of Google ensures you get more traffic, attract more patients and make more bookings.
A medical website needs to be found easily on Google, attracting thousands of potential patients and doctors that search for medical practitioners online.
If you are not at the top of Google new customers and referring doctors can't find your website. Your competitors will grab all the leads that could have been yours.
Search Engine Marketing is a legitimate way for the medical industry to advertise. See our 3 Google strategies below.
WE MAKE IT EASY FOR YOU
We can move your website to the top of Google, maximising your exposure to new patients. A top ranking on Google will grow your business.
Most Google agencies focus on rankings, not your bookings. Targeting is a critical key to marketing success. We will make sure you get the right people on your site. If you get the wrong visitors, they'll click away and are a total waste.
All we care about is how many new patients we can help drive to your website.
Call (02) 8003 5562 or email us today.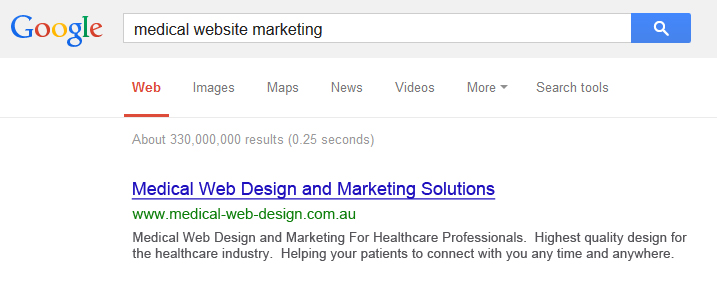 GET YOUR WEBSITE LISTED ON PAGE 1
3 GOOGLE STRATEGIES TO ATTRACT NEW PATIENTS
GOOGLE ADWORDS
When a patient or healthcare professional uses Google to search, your advert will appear in front of them. Your advert will include a link to your website. You only have to pay Google a small advertising fee if the person clicks on your advert and visits your website.  This is a FAST working strategy that gets you immediate new enquiries and helps you get more new patients.
GOOGLE SEO
Search engine optimization (SEO) is the process of optimizing your website for important keyword phrases and building it's popularity to get it ranked on page one of Google. We have identified the top 16 factors that get websites listed at the top of Google.  There are no guarantees with Google SEO, but 95% of our clients are successfully ranked on page 1 of Google within 3 months of starting SEO with us.
GOOGLE MY-BUSINESS / MAPS
We will set up a Google MyBusiness account for you which gets your practice listed in the free Google MAPS directory. We'll also setup Google+ for you as part of this service. This listing will help with localised searches. When a person is searching and includes a suburb, Google then presents suitable businesses that are in that local area. There are no ongoing fees for this Google listing.