Your Website is also an
EMAIL Marketing Tool.
Targeted email marketing is extremely cost-effective and powerful. We make it easy for you to send highly professional email offers and newsletters.
Email marketing is a great tool for building relationships with your current patients and attracting new leads because it's instant, personalised, directly linked to your website and positions your business as the expert.
You can use the free email marketing software to send newsletters, welcome letters, practice updates, health tips, special offers, reminders and even auto-responder emails.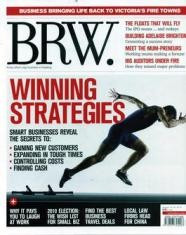 Business Review Weekly magazine continues to place email marketing as the most successful form of digital advertising – ahead of social media marketing, search engine marketing and banner advertising.
More than two-thirds of the reviewed businesses planned to increase their investment on email marketing in the year ahead.
Get Started with Email Marketing
We can work with your existing customer database or get you started on collecting and communicating with new email subscribers.
Incorporating a simple subscribe form into your web design is an easy first step towards connecting and building relationships with your website visitors and customers.
Once you've witnessed the power of email marketing you'll never look back.
Easy-To-use Email Newsletter Builder
Our email builder makes creating beautiful email campaigns easy. Simply follow the wizard, send a test message, then launch (send) the email campaign.
Easy to use editor
Database management
Customise emails for each recipient
Beautifully designed email templates available free
Unsubscribes and hard bounces are managed automatically
Add articles and blog postings into your email as a snippets
Email newsletters are automatically added to your website
Review the success of your email campaign with real time tracking
(link clicks, open rate, bounces, unsubscribes)
Customised Email Newletters Design
We can design, test and execute your email campaign for you.
We have created countless email marketing campaigns for clients that have achieved millions of impressions, click-throughs, and sales conversions – so we've learned what really works and what doesn't.
Professionally designed email messages
All aspects of creating and executing the campaign handled for you
Support managing your data base (email list of subscribers)
Email message configured to achieve the optimum results for your business
Receive up to the minute reports of opens, click through, bounces and un-subscribes
We can even arrange a series of date-triggered messages to be sent to your contacts
Easy to Measure Results.
When you send an email offer or newsletter using our email marketing software, it automatically tracks results for you. So you know exactly who opened the email message and who didn't. You know if they clicked on a link, made a booking, purchased something, unsubscribed, read an article or BLOG and you have total access to manage your email list.
Every time you send out an email campaign you'll see exactly what's working and what's not.  
We hate spam too!
At Medical Website Design we take email marketing very seriously.
We ensure your subscribers have given their direct permission to be contacted by email, so you comply with the Australian email law.